---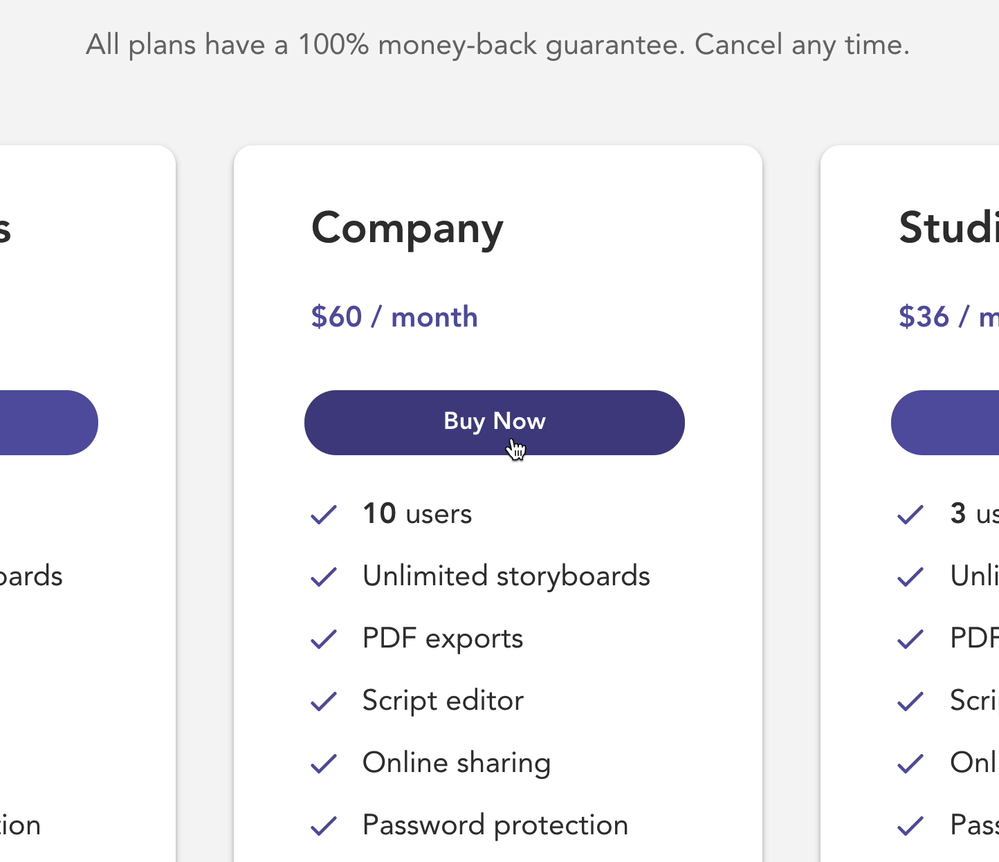 Welcome to my twice-monthly newsletter about the highs and lows of building indie software products.
---
1. A new approach to annual pricing
I'm testing a new pricing page for Boords. I want to find out if reframing yearly billing as a discount will get a higher percentage of annual plans. I stole the idea from Manual Frigerio's post on reframing discounts. I'm pulling annual vs monthly subscription plan ratios from Stripe Sigma, so I'll check back in towards the end of February to see the results. I also added a rather snappy card-flip animation to reveal the discount rather than putting up an interstitial.
---
2. Not 'Getting Things Done'
I'm making my way through Cal Newport's Deep Questions Podcast. In episode 62 he discusses David Allen's Getting Things Done, a productivity system which until very recently formed the bedrock of my own approach to - well, getting things done. Allen proposes that all projects, no matter how large, can be broken down into discrete tasks, which we can then crank through in batches. There's an analogy with the factory manager (the 'planning' you) identifying tasks on the production line, then passing these tasks to the worker (the 'doing' you).
I've always struggled with GTD, and Cal was the first person I've heard articulate why - you can't plan out every task in a complex knowledge project in advance, never mind the overhead of managing a system which attempts to do so. As a result, I've split my task and knowledge management into separate processes. I use Apple's reminders for the basics (e.g. buy milk), and Notion for larger complex projects (I have a notion page for each project, and can see them all at once on a Kanban board). It's refreshing to see that buying milk and building a SaaS product operate on two entirely different levels of complexity, and it's impossible that one piece of software would do both of these things well.
On a practical level, the new Apple Reminders is a breath of fresh air. I enjoyed this post by Jon Mitchell outlining the new features which make it a genuine contender in the todo list software world.
---
3. Basic After Effects
I'm building out some new landing pages for our marketing site, and in the hope of including some more motion in the screenshots, I cracked open my copy of After Effects. While I ultimately ended up outsourcing the screenshots themselves, I did find some useful resources for creating small UI animations.
First, this Udemy course on UI Animations and Interactions was a great help to understand the basics in about an hour. After Effects is immensely powerful, and many courses go deep into that power. It's hard to find a short course which shows you how to move some UI around, and this was the best I came across.
It's also worth checking out Motion3, an AE plugin which makes easing a breeze, AEUX which allows you to link After Effects and Figma or Sketch, and GifGun, which as the name suggests makes exporting GIFs incredibly easy.